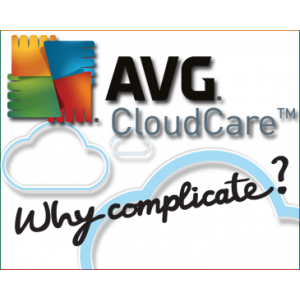 AVG CloudCare is the latest system to manage computer security across an entire organisation making management, updating and monitoring a simple task for any business.
Having individual security programs installed on all of your networked machines is a real pain to manage. Each machine must be regularly updated and scan results reviewed to ensure your business is remaining safe whilst on the internet. AVG cloudcare does away with the need to manage individual machines by providing a management interface which allows an administrator (or if you prefer we can manage this for you) to perform actions across all of the machines at once. From this central interface you have the option to:
update AVG on all machines
set scheduled scans (maybe at a time when the machines are not in use)
manage firewall rules for each machine or for the organisation as a whole
review any alerts or warnings from any machine
schedule reports for management to review
block access to specific websites either per PC or across all machines
In addition to this there is a free remote support package built in, allowing an administrator to remotely log into any machine to perform maintenance or to help with a problem the user has.
Another feature business owners find very attractive is the monthly pay as you go billing which means you only pay for the machines that are using the program and there is no minimum subscription which could leave you unprotected if the subscription expires. In addition to all of these great features AVG CloudCare is very well priced starting at only £2 per machine per month, making it much cheaper than most of it's competitors.
As an approved AVG Reseller why not contact us to discuss your needs and get a quote tailored to your needs