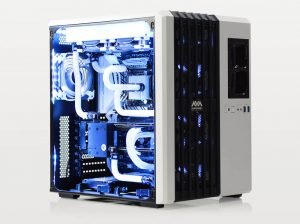 Off the shelf computers and laptops are getting better all the time but for real enthusiasts or heavy professional use nothing can beat our custom PC builds.
Custom PC builds for gaming
Cutting edge gaming machines are what every serious gamer desires. With faster performance and higher quality graphics enabling you to game lag free at the highest possible monitor resolutions owning a top drawer gaming rig can mean the difference between life and death (only in your games of course).
We will work with you and your budget to design and build the PC of your dreams. Using the latest technologies such as super fast Solid State hard drives, the latest graphics cards, overclock-able motherboards, air or liquid cooling, RGB LED lighting and an almost infinite choice of cases and gaming hardware you can decide every aspect of your new PC.
Custom PC builds for business
Specialist workflows and tasks can require very specialist machines. Some users who work with 3d modelling or content production may require large amounts of super fast storage either from SSDs or a RAID array. Editors, working on images or video, may require a computer with huge processing power and lots of RAM to quickly encode large files. Maybe you need a PC with 3,4,5 or even more displays to work on complex projects. Whatever is your desire we can help build a machine to get the job done and suit your budget.
Building a custom PC for a client always starts with 2 things; a wishlist and a budget, so if you would like to talk to us about your requirements then send us a message and we will get back to you to start the consultation. You can spend as much as you like on a custom PC build so to keep the pricing fair and simple we will quote you a flat fee for the build then only charge the parts used at trade price to ensure your happiness.